DBLT Designs - Fine Jewelry Inspired by Cinematic Music
Artisan fine jewelry built around the musical world of Dark Beauty, a cinematic art rock band. 
Our jewelry is lovingly handcrafted and some of our items are made to order. Please allow extra time for processing your order.
Lullaby Rose Collection in Sterling Silver
Live the magical fantasy of the Dark Angel's world and immerse yourself in the lullaby rose garden. It's a world of fantasy you can wear! Filled with luscious roses and crafted by expert jewelers and designed with a delicate beauty in 925 sterling silver, this artisan rose collection will truly explore the words "Dark" and "Lullaby".  
Lullaby Rose Collection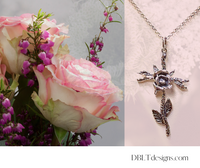 Explore the Maiden's Collection
Explore the exquisite jewelry of the Maiden's collection. Handcrafted in shimmering sterling silver, you will find the perfect item to fit every taste.

Beautiful Oval Links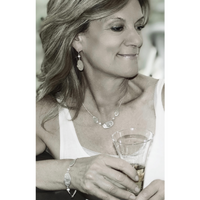 Visit the Guardian Angel Collection
Inspired by Dark Beauty's guardian angel, your spirit will take flight when wearing these gorgeous, handcrafted sterling silver wings.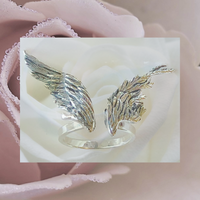 Guardian Angel collection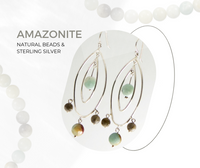 Beautiful Natural Beads
Genuine amazonite and Labradorite hoop dangle earrings in Sterling Silver.
Amazonite Earrings
Snowflake Limited Editions
Find The Beauty in the Angel's Jewelry
This section doesn't currently include any content. Add content to this section using the sidebar.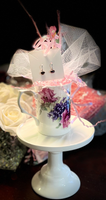 Romantic Gift Wrapping
Giving a gift that requires that special touch? DBLT offers unique beautiful gift wrapping for special occasions whether it is for just one or a number of gifts. We pride ourselves in romantic and creative ideas for weddings, engagement parties, baby showers, birthday parties, anniversaries or any other special occasion.
Please email me and let's start creating your perfect gift.
Romantic Gift Wrapping
Wickle Baby Bouquet
This unique baby bouquet makes the perfect wow gift for the new mom-to-be and a wonderful baby shower gift. Handmade from baby washcloths, these lovely flowers serve as a gorgeous bouquet that may be used as a decorative item or taken apart and used for your baby. Containers and ribbon colors may vary according to supplies.

Available in pink and white, blue and white, gray and white, and mixed colors.  
This item is custom-made and nonrefundable. 

Available 'only' for local pickup in Portsmouth, NH 03801. This item is not available for shipping. 
Baby Bouquet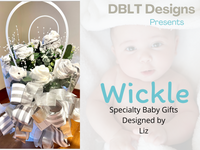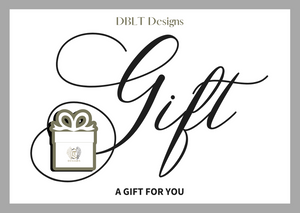 Host an Online Jewelry Party!
Calendar Dates Available - 2021
Please click below to fill out the form and schedule your virtual private online party, and to receive your hostess package.  
Let's Get the Party Started! Book Your Date!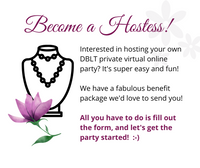 loyalty points
Join The Angel Points Program!
Sign up and earn points when you make a purchase and more.  Click on Angel Points to sign up and learn more.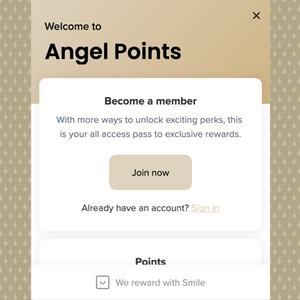 Customer Reviews
From placing my order to receiving my items, DBLT Designs has proven to be the most stunning jewelry that I have ever invested in. The level of care for each piece and for the customer is evident at every step of the process, from the foolproof packaging, to the beautiful boxing, and to the loveliness of the items themselves. I ordered one piece from each collection and can't wait to do so again. Thank you, DBLT Designs! 

Katie
Great designs to coincide with the music theme of Dark Beauty. very good attention to detail on the designs and very reasonably priced!

Maria
Beautiful designs and great quality! The customer service is wonderful!

Diane
Music and Jewelry Integrate to tell an epic story
DBLT Designs and Dark Beauty
"Liz Tapia, jewelry designer and lead singer of the progressive rock band, Dark Beauty, founded DBLT Designs to create an exclusive line of jewelry built around the gothic, musical fable that inspires Dark Beauty's songs.  This entrancing musical journey was the jumping off point for each design in this amazing collection of wearable art.
From the delicate beauty of the Dark Lullaby collection to the original skulls of the Wicked Dollhouse collection, you'll be drawn into this mystical tale of angels and demons, disgrace and redemption, in the world of Markhum.  To hear the music behind each design collection, visit DarkBeautyMusic.com."