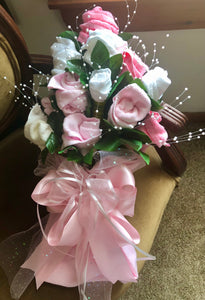 Wickle roses are a beautiful and avaluable gift! Each baby washcloth is hand wrapped and shaped into a rose with pearls and tulle; then, a dozen are swaddled in a blanket and beautifully gift wrapped to create a gorgeous long-stemmed rose bouquet. The bouquet can be elegantly displayed in the baby's nursery or taken apart for use.  
This beautiful gift will wow new mothers and is perfect for baby showers.
Available in pink mixed with white or blue mixed with white.  Please choose your color. 
Colors may vary according to supply. 
Please select your color.