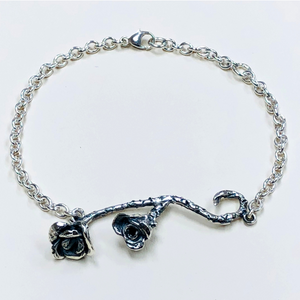 This charming lullaby rose bracelet is handcrafted and beautifully detailed with a mix of patina to create an antique finish, and placed on a sterling silver chain bracelet. 
The roses are carefully crafted with extraordinary detail on sterling silver wire and can be gently molded onto the wrist for the best fit.  Enjoy wearing these exquisite artisan roses!
This item is available in 6 - 6 1/2 inch and 7 - 7 1/2 inch adjustable chain.  
If you need a different size than what's showing on the website, please email us and we will be happy to size it to fit.  Email:  Sales@DBLTdesigns.com